Ancient Terrazon is a unit card.
This card can also be obtained from The Empty Throne Card Packs. Diamond Chests and The Empty Throne Card Packs can give Premium versions of this card.
This unit is best used with OverwhelmOverwhelm:
When this hits an enemy unit, leftover damage is dealt to the enemy player or site. and KillerKiller:
May be exhausted one time to attack any enemy unit., as they allow further removal and preventing the opponent from blocking it off with one unit at a time. However, beware that this unit is easily killed by Annihilate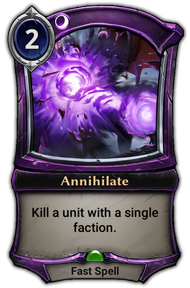 , thus, one should bait their opponent and make sure Ancient Terrazon doesn't get killed.
Community content is available under
CC-BY-SA
unless otherwise noted.