Awakened Gorger is a unit card.
How to Get
Strategy
Notes
Echoes of Eternity had support for three-faction alliances that debuted in The Flame of Xulta (
,
,
,
, and
). One part of it was a 5-card cycle of uncommon cards consisting of Edge of Prophecy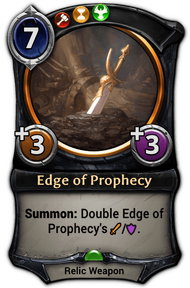 , Awakened Gorger, Razorpain Hellkite, Sorcerer's Wand, and Agent of Purpose.
History
| | |
| --- | --- |
| 1.50.0... | Released in the Echoes of Eternity draft preview. |