Bastion Rising is a purchasable bundle set, released November 4, 2020.[1] It introduced 23 unique collectible cards for normal play.
The Last Bastion – the one remaining wonder of a lost age – stretches ever upwards. A spiraling tower city, home to untold thousands of survivors scattered across hundreds of labyrinthine levels, its denizens united in the great work of the tower's continual construction, willing itself away from the darkness below.
Price
[
]
Bastion Rising may be purchased from the in-game store through two bundles—the base bundle, and two levels of upgrades.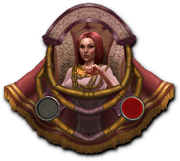 The Bastion Rising Bundle costs

25,000 gold or

1000 gems (

1100 costs US$9.99 through the in-game store). It includes four non-premium copies of each of its 23 cards, and a unique Okessa Málaga premium avatar.
The Bastion Rising Premium Bundle costs

2000. In addition to the base bundle's contents, it includes four premium copies of each card, and a unique premium cardback. A purchased base bundle may be upgraded to the premium bundle for

1000.
The Bastion Rising Legendary Bundle costs US$44.99. In addition to the Premium bundle's contents, it includes:
Cards
[
]
Bastion Rising's unique cards cannot be crafted, or destroyed for shiftstone. They are only available after purchasing the bundle. Unlike campaigns' mission-unlocked cards, these bundle cards are available for normal play immediately upon purchase.
Premium versions of each card may be crafted once unlocked, at the usual cost for its rarity, or purchased in the premium bundles.
Find Bastion Rising's cards in its category page.
Spoiler Season
[
]
Bastion Rising was announced October 22, and its spoiler season coincided with the week-long Eternal Celebration event.[1]
Pre-order Bundles
[
]
The Legendary Bundle was available for pre-order on October 26. Pre-ordering the bundle gave an additional Draft Ticket, and unlocked several cards for use in constructed play before the set's full release.
Preview Event
[
]
A preview event was held the weekend before Bastion Rising's release. It featured five exclusive pre-constructed decks, each showcasing a card from the new set.
Achievements
[
]
Five in-game and platform achievements were added with Bastion Rising.
| Name | Description | Reward | Points | Xbox | Steam |
| --- | --- | --- | --- | --- | --- |
| Back From the Brink | Play Fall of House Roa while at exactly 1 Health. | 75 | 50 | 10 | ✓ |
| Fair Play | Stop three of your own units Summon abilities with Grand Suppressor. | 75 | 50 | 10 | ✓ |
| Fresh Dirt | Fertile Soil}. | 75 | 50 | 10 | ✓ |
| Just Where I Wanted | Draw a unit from your market that you put there with Near Perfect Imitation. | 75 | 50 | 10 | ✓ |
| Uxu Sated | Play an Uxu that has gained all of its abilities. | 75 | 50 | 10 | ✓ |
References