Copper Conduit is a unit card.
This card can also be obtained from The Empty Throne Card Packs. Diamond Chests and The Empty Throne Card Packs can give Premium versions of this card.
Copper Conduit's SummonSummon:
Does something when played. effect is permanent, so it will continue to grow if replayed multiple times—return it to your hand with Safe Return
, or return it from the void with Dark Return
or Memory Dredger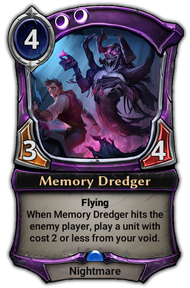 . Because it has OverwhelmOverwhelm:
When this hits an enemy unit, leftover damage is dealt to the enemy player or site., a huge Copper Conduit will trample over enemy blockers to deal massive damage to your opponent!
Copper Conduit enters play before getting a stat boost from its effect, and after entering play will get a stat boost from the amount of power you spent. For example, if Dawnwalker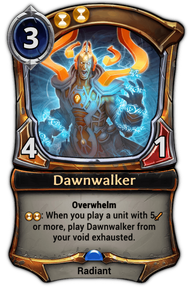 is in the void, and you play this for 6, Dawnwalker would not return from the void, even though Copper Conduit becomes a 5/5.[1]
History
| | |
| --- | --- |
| 1.51.5... | Now cost 1+ (was cost 2+). |
| 1.23 | Removed Powersurge. Now 2T 1/1, Overwhelm with "Summon: Spend your remaining power to give Copper Conduit that much strength and health." |
| 1.12 | Cost changed from 0+ to X (non-functional change). |
| 1.7.3 | Released in The Empty Throne. |
References
Community content is available under
CC-BY-SA
unless otherwise noted.