Corrupt is a fast spell.
How to Get
Edit
This card can also be obtained from
The Dusk Road
Card Packs. Diamond Chests and
The Dusk Road
Card Packs can give Premium versions of this card.
Strategy
Edit
Nothing here yet!
Corrupt can be played regardless if there are other targets. There doesn't need to be an enemy that can be legally selected with Corrupt.[1] If there are any possible targets, the negated spell is replayed, even if the only legal targets are your own units and the effect would be negative.
You are the player playing the negated spell—you will have to pay any additional cost or select modes for the card. For example, with Vara's Choice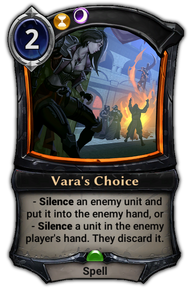 , you'll be able to choose whether or not to silenceSilence:
Remove all text from a card and its attachments. an enemy unit and put it into their hand, or silence a unit in their hand and discard it. The choice the enemy made no longer matters as the spell previously played was negated.[1]
If the enemy player has an AegisAegis:
Protected from one enemy spell or effect (but not from battle damage)., Corrupt will first negate their spell, then the player Aegis will block the spell being stolen.[1]
History
| | |
| --- | --- |
| 1.41.4 | Now negates the enemy spell then plays it from the void (before, it stole the spell then redirected it). |
| 1.27 | Released in The Dusk Road. |
References
↑ 1.0 1.1 1.2 Full Corrupt Explanation, from the in-game 'News'
Community content is available under
CC-BY-SA
unless otherwise noted.