Curfew Enforcement is a spell card.
This card can also be obtained from The Dusk Road Card Packs. Diamond Chests and The Dusk Road Card Packs can give Premium versions of this card.
The following cards create tokens of Curfew Enforcement (or transform cards into it):
Nothing here yet!
Curfew Enforcement is part of a 5-card cycle of spells in The Dusk Road whose effects may be repeated by paying more power exhausting units of a specific type. These cards are: Inner Fire
, Stirring Sand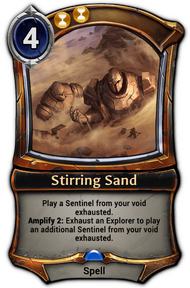 , Curfew Enforcement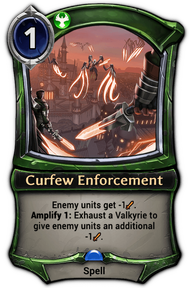 , Snow Pelting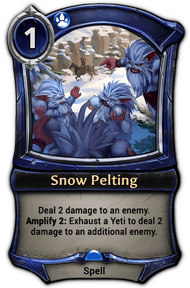 and Deadly Confrontation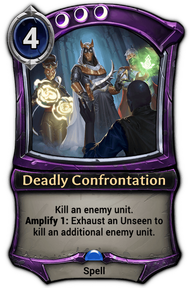 .
Their effects functioned similarly to AmplifyAmplify:
When you play this, you may pay the Amplify cost any number of times to gain the effect., which later debuted in Defiance. When Empire of Glass revisited Amplify, this cycle was updated to use the mechanic.
Community content is available under
CC-BY-SA
unless otherwise noted.