Deadly:
Kills all units it damages.
Find more cards with Deadly in its category page.
Certain Relic Weapons, such as Blistersting Claws
, give a player Deadly. Spells that deal damage (such as Vara's Favor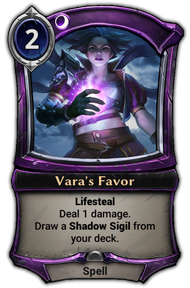 ) and are played by this player are also deadly.
If a deadly unit deals no damage to another unit, that unit will not be affected by the Deadly ability, as Deadly requires damage must be dealt to kill the unit.
If a unit has Deadly and either OverwhelmOverwhelm:
When this hits an enemy unit, leftover damage is dealt to the enemy player or site. or QuickdrawQuickdraw:
When this kills a blocking unit, the blocker doesn't deal damage back., 1 damage will be dealt to each blocker, and the remaining damage will be dealt to any other blockers. (In overwhelm's case, any remaining damage will be dealt to the enemy player.)
Nothing here yet!
Related Cards
Edit
Community content is available under
CC-BY-SA
unless otherwise noted.