Echoes of Eternity is the eighth pack-based expansion set for Eternal Card Game. It was fully released in February 2020 with 200+ new cards. A subset of its cards were released early in a special Draft Preview.
How to Get
Edit
Packs of Echoes of Eternity are available for purchase from the in-game store, and individual cards may be crafted with Shiftstone.
Echoes of Eternity packs are also used in Draft and Leagues, and Echoes of Eternity cards have been incorporated into the Forge mode.
New Theme Decks
Edit
Mechanics & Themes
Edit
New Mechanics
Edit
CorruptedCorrupted:
When this unit dies, play its Shade.
Returning Mechanics
Edit
MasteryMastery:
When this unit deals damage and survives, add to its Mastery total. When the Mastery target is reached, gain the effect.
DecimateDecimate:
When you play this, you can choose to lose one Maximum Power to gain the effect.
InvokeInvoke:
Choose between a random spell, unit, and attachment of this card's factions to create and draw.
SpellcraftSpellcraft:
When played, you may also pay its Spellcraft cost to play the spell.
PledgePledge:
On your first turn, a card with Pledge can be played as a Sigil.
TributeTribute:
Does something when played if a unit went to your void this turn. appears on two cards in Echoes of Eternity; this was previously only found in The Fall of Argenport and Into Shadow.
RevengeDestiny:
Automatically play when drawn, then draw another card.

Revenge:
The first time this is killed, give it Destiny and put it into the top ten cards or your deck. is found on one card, Touch of Resilience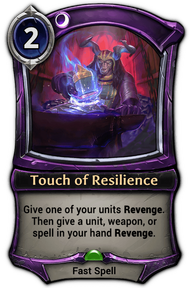 . This battle skill was previously only on cards from Omens of the Past and The Tale of Horus Traver.
Unit Types
Edit
Other Themes
Edit
Spoiler Season
Edit
Pre-order Bundles
Edit
The Champions of Xulta Bundle
Edit
Echoes of Eternity Pre-Order Bundle Edit
A $49.99 Echoes of Eternity pre-order bundle was available from January 28, 2020 until the set's full release.[2] It included:
Tolek was immediately allowed in the Throne and Expedition constructed formats, and its regular version was unlocked for crafting.
Draft Preview
Edit
On February 4, prior to Echoes of Eternity's full release, 72 commons and uncommons from the set were incorporated into Draft Packs in a special Draft Preview.[2] These cards were immediately playable in constructed formats, though the cards could only obtained through draft during the preview.
References
↑ 1.0 1.1 DWD News - New Set: Echoes of Eternity (January 15, 2020). Retrieved January 29, 2020.
↑ 2.0 2.1 DWD News - Echoes of Eternity Pre-Order Bundle (January 28, 2020). Retrieved January 29, 2020.
Community content is available under
CC-BY-SA
unless otherwise noted.