Emerald Overcharger is a relic card.
How to Get
[
]
This card can also be obtained from Empire of Glass Card Packs. Diamond Chests and Empire of Glass Card Packs can give Premium versions of this card.
Strategy
[
]
While not being very good combat trick due to slow speed and power inefficiency, Emerald Overcharger can be good pick-up in Limited games like Draft and monthly League thanks to synergies in formats based on Empire of Glass expansion. Common Drifting Drone
and Sidestreet Monitor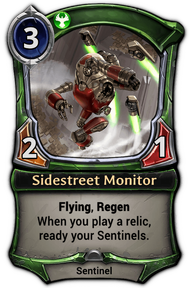 work well with playing and sacrificing relics and the rare Forge Sanitizer
turns from reasonable but rather weak unit to a bomb if you have used Emerald Overcharger, which is not hard as it's the cheapest relic of its cycle. If your deck branches out to Combrei, be sure to pick up one or two Coretap Maximizer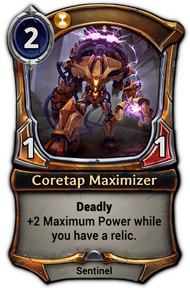 as they work great in the early game in tandem with Emerald Overcharger. If you happen to grab Clear the Way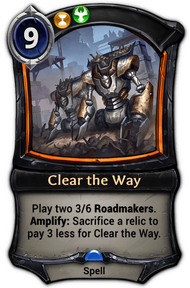 , Overcharger is an excellent sacrifice fodder.
Notes
[
]
Emerald Overcharger is a part of cycle of 5 common relics. Each has a minor SummonSummon:
Does something when played. effect and can be sacrificed to repeat it, spreading the power cost over two installments. The cycle consists of: Málaga Munitions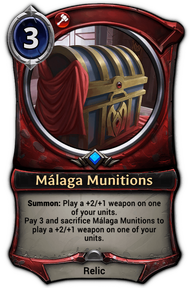 , Amber Lock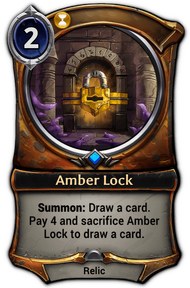 , Emerald Overcharger
, Exotic Purchase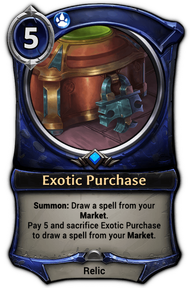 , and Medibot Station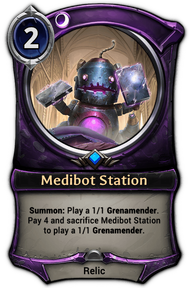 .