Endra, Champion of Shavka is a Hero unit card.
How to Get
Edit
After purchasing the Promises by Firelight campaign, beating a mission unlocks a playset of Endra, Champion of Shavka.
Premium versions of Endra, Champion of Shavka also unlock if the premium campaign is purchased. Without it, the premium cards can be crafted for

Shiftstone, after being unlocked in the mission.
Voiceovers
Edit
| | | |
| --- | --- | --- |
| • | On Play: | "Shavka's song will not be stopped!" |
Strategy
Edit
Nothing here yet!
Endra is part of a cycle of single-faction Hero units in Promises by Firelight, the champions of the Xultan Ancestors. These Xultan champions are: Endra, Champion of Shavka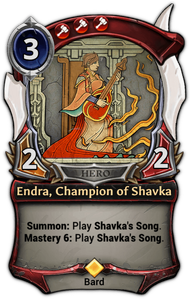 , Ixtol, Champion of Grodov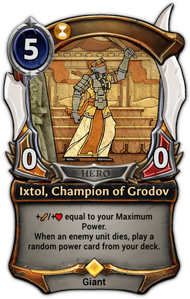 , Aali, Champion of Kodosh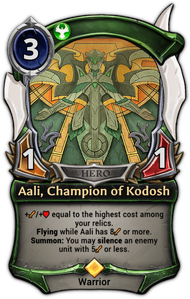 , Lys, Champion of Linrei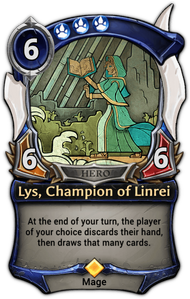 , and Kuro, Champion of Makkar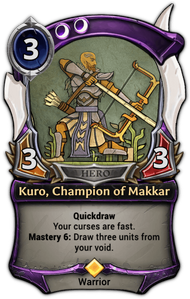 .
After the release of Promises by Firelight, Endra quickly took the meta by storm, with powerful decks built around her combined with copying, void recursion, and bouncing abilities to play her repeatedly and build the power of Shavka's Song.[1]
On December 21, 2019, Eternal designer Patrick Chapin made a statement on Discord, explaining in part:
"We are aware of Endra's high power level. We'll certainly be monitoring her usage, popularity, and range of counterplay; but we certainly aren't planning any emergency action."[2]
However, Endra continued to dominate the meta, with 18% of Throne decks playing her by early January, and the second most played deck of the time being built as a counter to her.[3] The balance changes on January 6th, 2020 increased her cost and influence requirements, ending her dominance in the meta.
References
↑ Reddit - HURRICANE ENDRA. Retrieved January 19, 2020.
↑ Discord - Patrick Chapin Discord message. Retrieved January 19, 2020.
↑ Team Rankstar - Meta Monday – January 2020 Week 1. Retrieved January 19, 2020.
Community content is available under
CC-BY-SA
unless otherwise noted.