Excavate is a spell card.
How to Get
[
]
This card can also be obtained from The Empty Throne Card Packs. Diamond Chests and The Empty Throne Card Packs can give Premium versions of this card.
Strategy
[
]
Nothing here yet!
Notes
[
]
Excavate was the first card to have the text "can't leave the void" (which later became VoidboundVoidbound:
This card can't leave the void..
One popular combo that led to this, nicknamed "Copperhall Prison", emerged using Excavate with Copperhall Blessing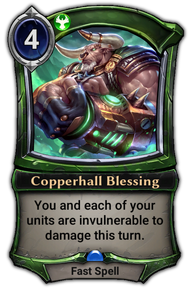 . After giving both cards EchoEcho:
Get an additional copy when drawn. with Elysian Trailblazers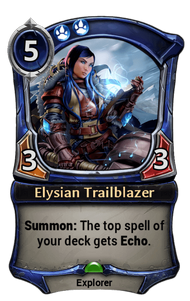 , Copperhall Blessings would be played each turn until the game was won. Deck sizes are 75 cards in Eternal, and milling or being milled out by this strategy was not a fun experience.