Extinguish is a Spell.
How to Get
[
]
This card can also be obtained from The Dusk Road Card Packs. Diamond Chests and The Dusk Road Card Packs can give Premium versions of this card.
Strategy
[
]
Nothing here yet!
Notes
[
]
If the spell's Nightfall trigger would increase the target's Strength above 4, the spell will NOT kill the target, since it is no longer a valid target. An example would be Lethrai Darkstalker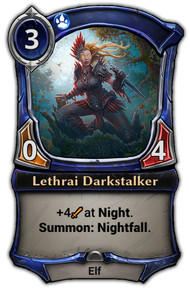 that already has a Strength increase. The Nightfall would cause the unit to become at least 5 Strength and the spell will not kill it.