Jufi, Sprite Seer is a Hero unit card.
How to Get
[
]
This card can also be obtained from Revelations Card Packs. Diamond Chests and Revelations Card Packs can give Premium versions of this card.
The purchasable theme deck Jufi's tricksters contains a copy of this card.
Strategy
[
]
Nothing here yet!
Notes
[
]
Jufi, Sprite Seer is part of a loose cycle of legendary monofaction units with StealthStealth:
This unit is played hidden. It is revealed when it deals or takes damage, is affected by an enemy effect, or has anything played directly on it.: Callous Triggerman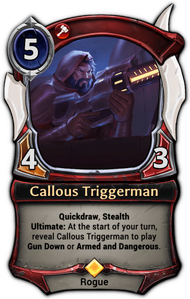 , The Last Carnosaur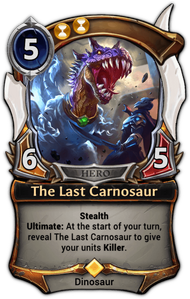 , Ky, Awakened Master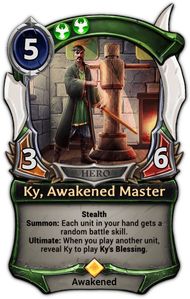 , Jufi, Sprite Seer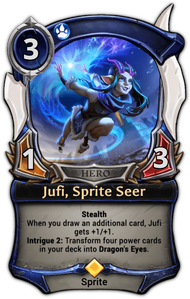 , and Elding of the Final Hour
.
History
| | |
| --- | --- |
| 1.53.0... | Released in the Revelations preview event (collectible with the set's full release). |