Kaleb's Choice is a fast spell card, depicting Kaleb, one of the original Scions.
How to Get
Voiceovers
I'll find the truth of my bloodline.On Play
Strategy
Notes
Kaleb's Choice is part of the first choices cycle of 2-faction choose one spell cards.
The cycle's first five cards, including Kaleb's Choice, were released in Omens of the Past and named for the five original Scions: Talir's Choice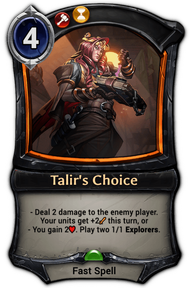 , Kaleb's Choice, Vara's Choice, Eilyn's Choice, and Rolant's Choice.

The remainder of the first cycle was completed in The Fall of Argenport, based on other Eternal characters: Ijin's Choice
, Jekk's Choice, Siraf's Choice, Cirso's Choice, and Rindra's Choice.

A second cycle of choices was released in The Flame of Xulta.
Gallery
History
| | |
| --- | --- |
| 1.22 | Released in Omens of the Past. |
References