Kan, Censari General is a Hero unit card.
How to Get
[
]
This card can also be obtained from Cold Hunt Card Packs. Diamond Chests and Cold Hunt Card Packs can give Premium versions of this card.
Strategy
[
]
Nothing here yet!
Notes
[
]
Kan, Censari General is a part of a five-card cycle of legendary cards with InscribeInscribe:
This card can be played as a depleted Sigil. from Cold Hunt. Each has quadruple influence requirement of their respective single faction and an effect when it's inscribed (i.e. played as a depletedDepleted:
Isn't usable the turn it is played. Sigil). The cycle consists of: Kan, Censari General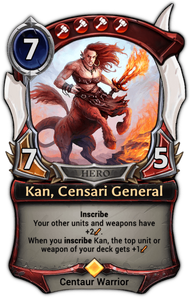 , Bhodi & Rox Forever
, Stormhalt Plating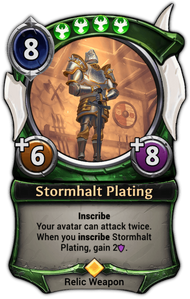 , Serpent Hive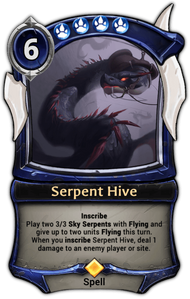 , and Fear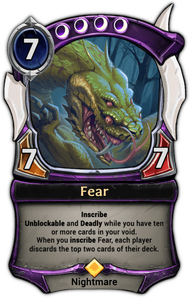 .
It can also be said that it's a part of a loose cycle of legendary single-faction Heroes from Cold Hunt, although they don't all have a mechanical overlap: Kan, Censari General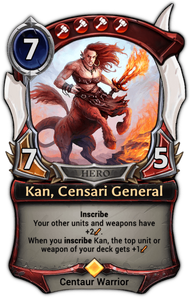 , Bhodi & Rox Forever
, Svetya, Dauntless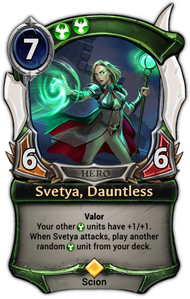 , Chirganth, Ice Regent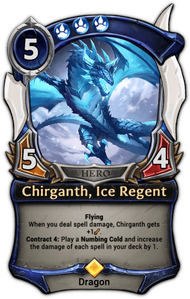 , and Severin, Inevitable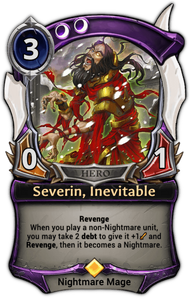 .