Lastlight Judgement is a spell card.
How to Get
[
]
This card can be obtained by winning matches during it's promotional period, otherwise it can be crafted.
Strategy
[
]
Nothing here yet!
Notes
[
]
Lastlight Judgement's cost is reduced whenever either player DecimatesDecimate:
When you play this, you can choose to lose one Maximum Power to gain the effect. their power.
Cards which can't be killed, such as Vargo Redclaw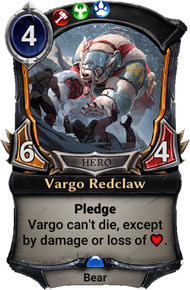 or cursed relics with Eloz, Nightmare General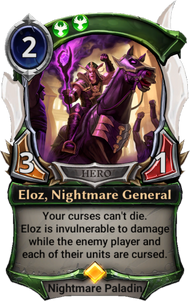 in play, will survive Lastlight Judgement's effect.
After Lastlight Judgement is played, the NightNight:
When you start a turn at Night, draw an additional card and take 1 damage.

Nightfall:
The first Nightfall card played in a turn makes it Night and extends it by a turn for each player. turn countdown (displayed when hovering over either player's avatar) will show "Night never ends".
Lastlight Judgement is the second promotional card of Echoes of Eternity. The promo quest period lasted from February 25 to March 2, 2020. For a limited time, an Eloz, Nightmare General premium avatar was available in the store for 300

gems. A bundle with the avatar and a promo theme deck (including 4 premium copies of Lastlight Judgement) was also available, for 500

gems.[1]
Lastlight Judgement was revealed the weekend before it's promo quest, during the DWD's official Eternal Championship Qualifier: Echoes of Eternity tournament stream in February 2020.[2]
Gallery
[
]
History
| | |
| --- | --- |
| 1.50.0... | Released as a promo to Echoes of Eternity. |
References