Mining Team is a unit.
This card can also be obtained from Dark Frontier Card Packs. Diamond Chests and Dark Frontier Card Packs can give Premium versions of this card.
Nothing here yet!
Mining Team is part of a cycle of common units that all have "SummonSummon:
Does something when played.: ScoutScout:
Look at the top card of your deck. You may put it on the bottom." and can be ShiftedShift:
When you play a unit Shifted, you'll pay in power the Shift number instead of its normal cost.
While Shifted, the unit is in play, but it can't attack, block, or be selected by any cards.
The unit will remain Shifted for three turns. When you start your third turn, it will Emerge immediately ready to attack or block and it gains Unblockable for the turn. for a cheaper cost. The cycle consists of Mining Team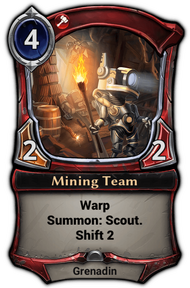 , Displaced Oryctodon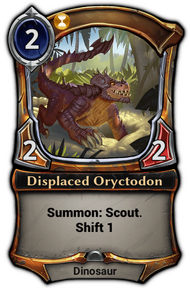 , Auric Lookout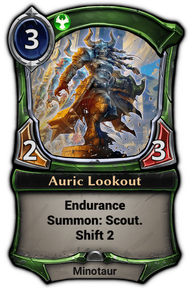 , Camp Surveyor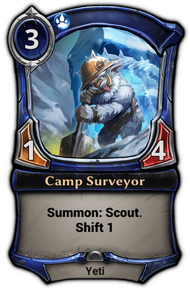 , and Crooked Alleyguide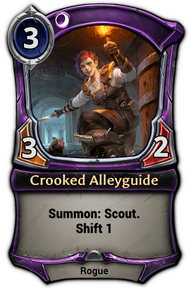 .
History
| | |
| --- | --- |
| 1.46 | Released in Dark Frontier. |
Community content is available under
CC-BY-SA
unless otherwise noted.