Jurassic World: Dominion Dominates Fandom Wikis - The Loop
Play Sound
(Editor's note: The in-game client version of this patch was unchanged from the previous releases. We added the "k" to distinguish between these updates.)
Buried Memories is now available!
Explore the depths of the tower city with 22 new cards!
New Event: Valentine Scion Draft!
[
]
(Editor's note: this change was made the following day. The following comes from a different source post.[1])
Will Rizahn's arrow strike true love? Find out this weekend in the return of Scion Draft!
Scion Draft is back by popular demand in a special Valentine's Day Weekend event! Draft with some of the most iconic cards from Eternal®'s history in a limited event that turns the power level all the way up!
In a Scion Draft, you'll still open four packs and draft a 45-card deck to bring into battle. But, when you open those packs… hooo boy: The draft pool draws from 562 high-impact cards. That means that a pack could contain any combination of rarities across the curated selection of cards from all sets. That's a lot of power!
This is a phantom event — the cards you draft are just to play with here; you don't get to keep them — and the pool includes some real heavy-hitters from Eternal's first ten sets…including brand new cards from Buried Memories, along with promos, alt-arts and other campaigns and bundles!
Spend some quality time with Scion Draft this weekend a pick up a copy of the sweet new alt art Rizahn, Greatbow Master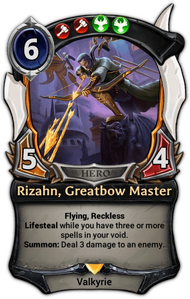 with each run!
(Editor's note: the event details, rewards, and Scion Draft Packs contents are available in the source article.)
References