Jurassic World: Dominion Dominates Fandom Wikis - The Loop
Play Sound
Rakano Outlaw is a Unit.
How to Get
[
]
This card can also be obtained from Card Packs. Diamond Chests and Card Packs can give Premium versions of this card.
Voiceovers
[
]
| | | |
| --- | --- | --- |
| • | On Play: | "Draw, mister!" |
Strategy
[
]
A powerful choice for aggro decks, Rakano Outlaw can apply continue pressure should it be left unchecked.
Compared to its 1-cost counterpart, Oni Ronin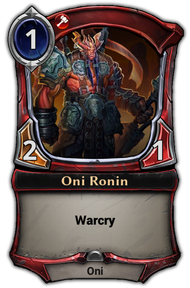 , Rakano Outlaw costs 1 more, but gains both 1 health and QuickdrawQuickdraw:
When this kills a blocking unit, the blocker doesn't deal damage back.. The latter, combined with WarcryWarcry:
When this attacks, the top unit or weapon of your deck gets +1/+1., makes it both difficult to block it in the early stages of the game, both advantagous to keep attacking with it.
Since it has Quickdraw and focuses more on going aggressive, Rakano Outlaw benefits mostly from SpellsSpells:
A one-time effect that costs power and goes to the void once played. Some spells are fast and can be played during the enemy player's turn as well. and AttachmentsAttachments:
Attachments are played on units and players and remain until they are killed. They include weapons which grant stats, curses which attach to enemies, and relics which attach to players. that can increase its attack or reduce the opponent's units' health. Giving it DeadlyDeadly:
Kills any unit it damages. makes it even more difficult to block, while OverwhelmOverwhelm:
When this hits an enemy unit, leftover damage is dealt to the enemy player or site. stops the opponent to stall the game by blocking it with one unit at the time. Additionally, it benefits also from being a target of other Warcry sources
Notes
[
]
This card's art was first shown in an early interview with The Game Bolt. [1]
It is unclear who did the voice acting for Rakano Outlaw, as IMDb attributes this to both Jex Black and Heather Masters[2].
Gallery
[
]
History
| | |
| --- | --- |
| 1.46.6.6648 | Now Gunslinger Rogue (was Gunslinger) |
| 1.7.3 | Released in The Empty Throne. |
References