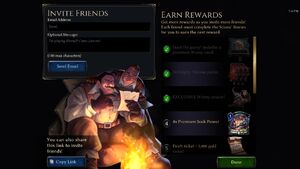 The referral system is used to invite new players to Eternal, with in-game rewards for both the recruiter and recruits.
Using the Referral System
Edit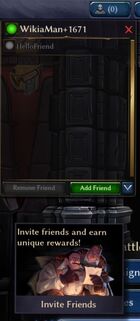 Recruit a player by either sending a recruitment email or sharing a link, through the in-game interface. Invited players can then register a new account as a recruit.
The referral system's Recruit A Friend interface can be found in-game through the Invite Friends button in the friends menu. Recruitment emails can be sent directly with customized email text. You can copy your recruitment URL link to your clipboard by clicking the Copy Link button, located at the bottom left of the page.
Your email or link will take the invited player to an account registration page. They will be added to your list of friends after they log in. Once they finish the last of the three tutorial campaigns they and their recruiter receive their rewards.
Recruiter Rewards
Edit
Recruiters earn rewards when a recruit finishes the entire tutorial. Rewards are earned for up to 10 recruits.
Recruit Rewards
Edit
Recruits gain the Servants of Spire Preconstructed Deck and its cards after completing the last tutorial mission. Each recruited player can only earn this reward once.
Community content is available under
CC-BY-SA
unless otherwise noted.