Jurassic World: Dominion Dominates Fandom Wikis - The Loop
Play Sound
Revelations is the eleventh pack-based expansion set for Eternal Card Game. A subset of its cards were released early in a special Draft Preview, and it was fully released May 18, 2021 with 200+ new cards.
"We've always known what the coming confrontation will cost me. But we do have the advantage, of also knowing how it will end."
How to Get
[
]
Packs of Revelations are available for purchase from the in-game store, and individual cards may be crafted with Shiftstone.
Revelations packs are also used in Draft and Leagues, and Revelations cards have been incorporated into the Forge mode.
New Theme Decks
[
]
Mechanics & Themes
[
]
New Mechanics
[
]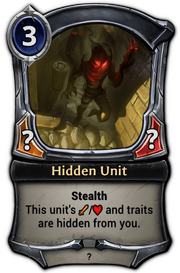 Only appearing on 3- and 5-cost units, Stealth units are played with their stats and abilities hidden from the opponent until they interact with the game.
This battle skill makes combat trickier by giving +1/+1 for each unit blocking a unit with Valor.
Returning Mechanics
[
]
Revelations has more cards with Amplify, to further support the Amplify matters themes of earlier sets. It also introduces the first power cards with Amplify.
Themes
[
]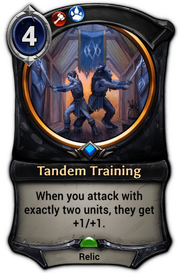 Attacking with two units

Many cards in Revelations have effects that care about attacking with exactly two units.

Goes to the void

A number of cards have effects that are triggered when they go to the void. Many spells and effects have sacrificing units or discarding cards as a cost, to synergize with the void-matters theme.
Spoiler Season
[
]
Revelations was first revealed on May 2, 2021 in DWD's live Twitch coverage of the Empire of Glass $5K Draft Open tournament.[2]. An announcement article for the set was released the following day,[1].
Community Spoilers
[
]
Beginning May 7, 2021, DWD sold community spoilers in the community store for

35,000 influence each.[1] Spoilers were available in limited batches, with 2 additional batches released in the following week, and sold first come, first served.
DWD would email the spoilers to their purchasers, which could then be shared with the game's community in any reasonable manner.
Pre-order Bundles
[
]
Revelations Pre-Order Bundle

[

]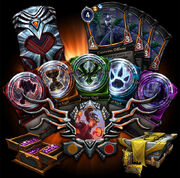 A $49.99 Revelations pre-order bundle was available from May 6, 2021 until the set's full release.[1] It included:
Draft Preview
[
]
On May 10, 61 commons and uncommons from the set were incorporated into Draft Packs in a special Draft Preview.[1] These cards were immediately playable in constructed formats, though the cards could only obtained during the preview through draft.
Preview Event
[
]
The Enemies Unknown preview event ran from May 14–18, with a special gameplay rule to feature cards from the new set:[3]
At the start of each player's third turn, they create and draw two random StealthStealth:
This unit is played hidden. It is revealed when it deals or takes damage, is affected by an enemy effect, or has anything played directly on it. units.
The event could be entered any number of times, with each run costing 4,000 gold or 300 gems, though only the first four runs counted towards the event's leaderboard. Runs rewarded packs of Revelations based on win record, along with alternate-art Stonescar ScrappersFile:Stonescar Scrapper (alt).png.
Achievements
[
]
References