Spark:
Cards with Spark have an additional effect when played after the enemy player has taken damage this turn.
Find more cards with Spark in its category page.
Notes
[
]
The effect is similar to Summon on units.
Details
[
]
This mechanic first appeared as the Skycrag(


) mechanic in Omens of the Past (Set 2).
It reappeared on one card in The Tale of Horus Traver (Set 2.5), Kindle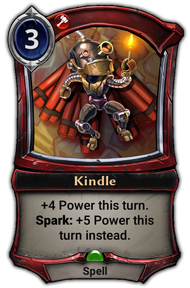 .