Kodosh, watch over me. Make my eyes sharp, and my feet swift.

A-hu!

Shavka, guide my hands that I may strike, clear and bright.

A-hu!

Linrei, cool my brow and ease my thirst. Cradle me and make me new.

A-hu!

Makkar, hold safe my blood, the gift of my mother, my debt to your children.

A-hu! A-hu!

Grodov, judge me kindly. For I am born to perish, and the world grows dark…

A call to the Ancestors

[1]
The Trials of Grodov is a purchasable bundle, released July 24, 2019.[1] It introduced 25 new cards for normal play, 20 of which are unique to the bundle. The other 5 cards are early arrivals of the remaining insignia, which complete the cycle from Dark Frontier. Its insignia were re-released in the following set, The Flame of Xulta. Bundle upgrades also introduce a new set of premium Sigils.
Price
[
]
The Trials of Grodov may be purchased from the in-game store through three bundles—the base bundle, and two levels of upgrades.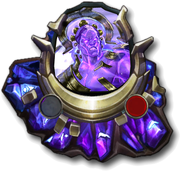 The The Trials of Grodov Bundle costs

25,000 gold or

1000 gems (

1100 gems costs US$9.99 through the in-game store). It includes four non-premium copies of each of its 25 cards, and a unique Uldra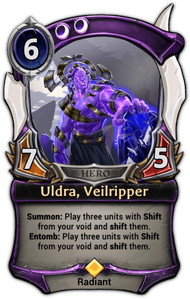 premium avatar.
The The Trials of Grodov Premium Bundle costs

2000 gems to purchase outright, or

1000 gems to upgrade from the base bundle. In addition to the base bundle's contents, it includes four premium copies of each card, and a unique Uldra premium cardback.
The The Trials of Grodov Xultan Bundle cost

5000 gems (or

4000 gems to upgrade from the base bundle, or

3000 gems to upgrade from the Premium Bundle). In additionally included a box of Dark Frontier, one Draft ticket, and the "Xultan" premium Sigils. The Xultan Bundle stopped being sold December 19, 2019, with Promises by Firelight's release.[2]
Cards
[
]
The Trials of Grodov's unique cards cannot be crafted, or destroyed for shiftstone. They are only available after purchasing the bundle. Unlike campaigns' mission-unlocked cards, these bundle cards are available for normal play immediately upon purchase.
With the release of The Flame of Xulta, the 5 insignia became craftable and are found in the set's packs.
Premium versions of each card may be crafted once unlocked, at the usual cost for its rarity, or purchased in the premium bundle upgrades.
Find The Trials of Grodov's cards in its category page.
Achievements
[
]
Five in-game and platform achievements were added for The Trials of Grodov.
| Name | Description | Reward | Points | Xbox | Steam |
| --- | --- | --- | --- | --- | --- |
| Army of the Shugo | Have four Oni wielding weapons. | 75 | 50 | 10 | ✓ |
| Most Dangerous Game | Kill an enemy unit that has 7 or more strength with a Killer attack. | 75 | 50 | 10 | ✓ |
| Sodi's Offensive | Draw 10 cards from Sodi Wingbreaker's ability. | 75 | 50 | 10 | ✓ |
| Sundered Veil | Shift nine units from the void with Uldra. | 75 | 50 | 10 | ✓ |
| Twisted Frontier | Twist three different units in a turn. | 75 | 50 | 10 | ✓ |
Notes
[
]
The Trials of Grodov is Eternal's first non-campaign release of purchase-only cards.
References