Yeti Taunt Patrol is a unit card.
This card can also be obtained from Argent Depths Card Packs. Diamond Chests and Argent Depths Card Packs can give Premium versions of this card.
Nothing here yet!
The surge ability will be blocked by Face Aegis on the enemy player.
Damage the enemy player deals to themselves is affected by battle skills on their relic weapon, such as LifestealLifesteal:
When this deals damage, you gain that much

., Double DamageDouble Damage:
Deals double damage., and DecayDecay:
Permanently reduces the

and

/

of units and relic weapons it damages.. Note that The Last Word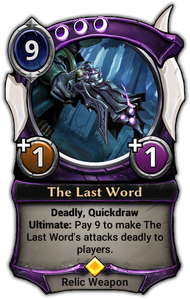 's UltimateUltimate:
Can only be used once. ability will not kill them, since it only affects attacks with the relic weapon, not all damage.
Community content is available under
CC-BY-SA
unless otherwise noted.